Field View Primary School
Field View Primary School
News
Wednesday 16th February 2022
Spring Term Parents Evening
We will be holding our termly Parents Evenings on Monday 7th March and Tuesday 8th March 2022. You will be able to book your child's appointment via SchoolCloud on Monday 21st February at 9am and bookings will close on Sunday 6th March at 9pm.
Please follow this link https://fieldview.schoolcloud.co.uk and sign in using your parent/ carer information and your child's details.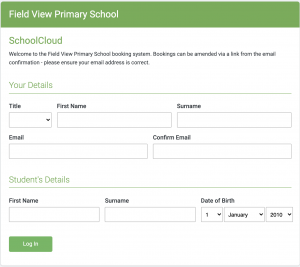 You will need to enter the information that the school holds for you and your child. If you have more than one child, you only need to enter one child's information as you will be able to book appointments for all children linked to you. If you have any issues or queries with the process please contact the school office as soon as possible.
Friday 2nd September 2021
Message to parents: 
We will continue to follow current government guidance for COVID. There will be no bubbles and positive cases will not result in closures. We will continue with regular handwashing throughout the day and regular cleaning. Should anything change we will let you know.
Parents can come into the school office after 9am. Staff will be on the gate or you can call 01902 925701 if it is before 9am.
As from Monday the timings of the day will be as follows:
Year Group

Start time
Drop off gate
Finish time
Collection Gate
Nursery (Morning)
08:30
Nursery Door
11:30
Nursery Classroom
Nursery (Afternoon)
12:15
Nursery Door
15:15
Nursery Classroom
Reception
08:50
KS1 Gate
15:10

Reception

Classroom 

Year 1
08:50
KS1 Gate
15:10
Year 1 Classroom
Year 2
08:50
KS1 Gate
15:10
Year 2 Classroom
Year 3
08:50
KS2 Gate
15:10
KS2 Playground
Year 4
08:50
KS2 Gate
15:10
KS2 Playground
Year 5
08:50
KS2 Gate
15:10
KS2 Playground
Year 6
08:50
Year 6 Gate
15:10
Year 6 
The government information for parents can be found

 

here

. Please note that schools have been advised that it

 

might be 'necessary to reintroduce bubbles or to keep groups apart for a temporary period to reduce mixing between groups.'

 

Parents are, therefore asked to

 

'follow any requests from your individual nursery, school or college.'
Want to know more
Find out about our trust