Field View Primary School
Our School
School Uniform
At Field View, we have high expectations for uniform. We expect all children to wear full school uniform each day. On PE days, we expect children to come to school wearing the correct PE kit.  
All children at Field View wear our school uniform. This consists of:
–        Yellow polo shirt
–        Royal blue sweatshirt or cardigan embroidered with the school logo
–        Black or grey trousers (not jeans or leggings)
–        Black or grey skirt or pinafore dress
–        Grey or white socks / grey tights
–        Blue and white or yellow and white checked summer dress (any style)
–        Black flat heeled shoes or boots. (Plain black trainers are also acceptable)
–       Reading Bag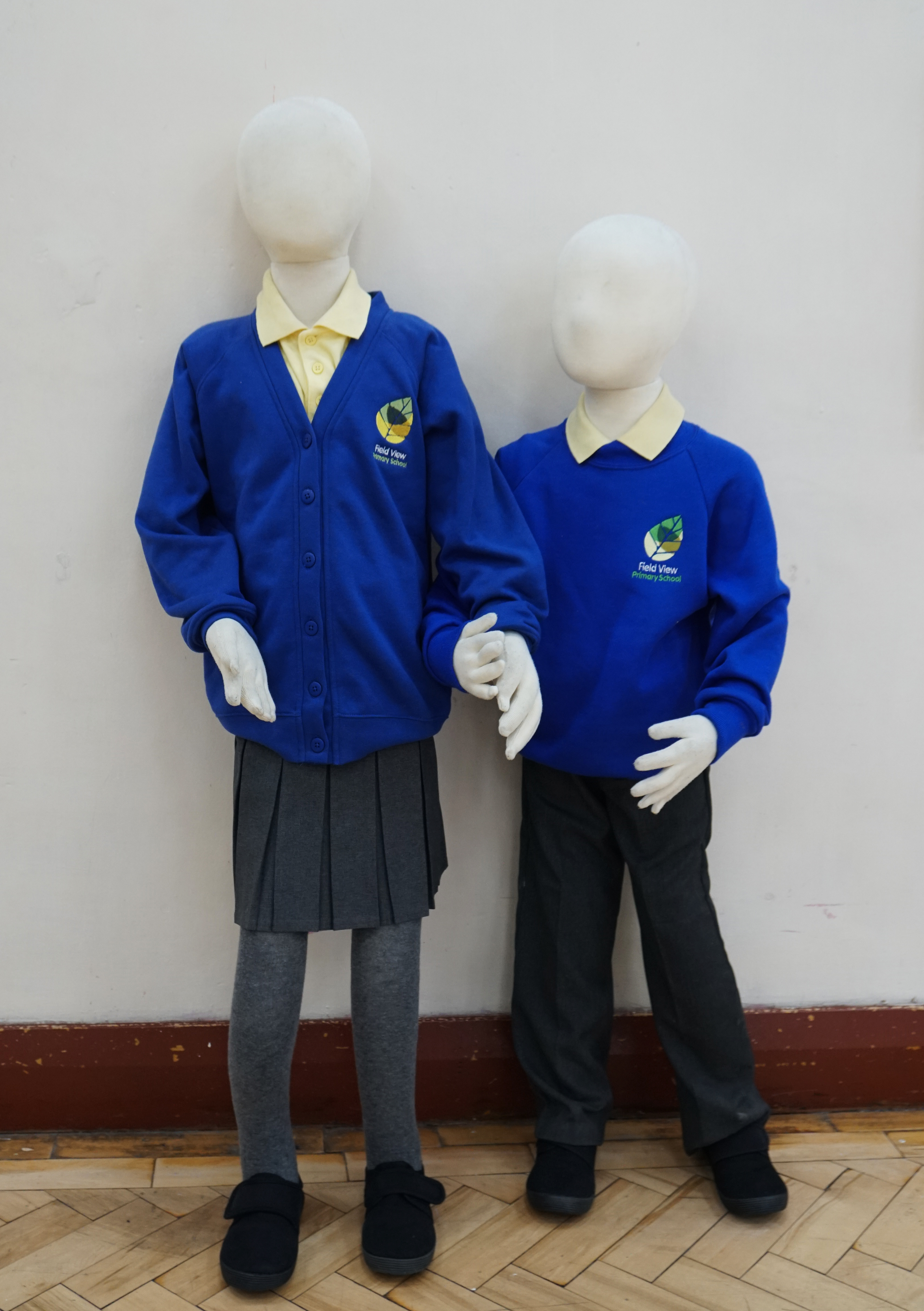 You can order school uniform from the suppliers below:
Clive Mark
Clive Mark Schoolwear
Saddlers Centre
1 Park Street
Walsall
WS1 1YS
Phone : 0121 429 4244
Opening Hours
Tuesday –
9.30am – 4.30pm
Thursday –
9.30am – 4.30pm
Saturday –
9.30am – 4.30pm
Lads and Lasses
Lads and Lasses
50A Warstones Road
Penn
Wolverhampton
WV4 4LP
Phone : 01902 334650
Opening Hours
Tuesday –
9.00am – 5.30pm
Wednesday –

9.00am – 5.30pm
Thursday –
9.00am – 5.30pm
Saturday – 10
.00am – 5.00pm
Please contact the school office for the password to enter the online shop. 
Parents can opt for free delivery back to school, please ensure you select click and collect at checkout and enter "free delivery back to school" under the order notes.
Crested School Wear
Units 26/27
Wulfrun Shopping Centre
Wolverhampton
WV1 3HG
Phone : 01902 593 030
Opening Hours
Mondays to Saturdays
9:00 AM- 6:00 PM
Sundays – 10:00 AM – 4:30 PM
Bilston Indoor & Outdoor Market
Opening times:
Monday, Thursday, Friday, Saturday: 9:00 am – 4:00 pm
Location:
The market is located by the A43 Black Country Route,
adjacent to the bus station and Midland Metro tram stop.
The postcode for Bilston Market is WV14 0DN.
The market also benefits from free car-parking close by.
PE Kit
Pupils and staff should wear clothes that are suited to the conditions of the environment and the activities undertaken.
The following clothes will be required for:
Indoor PE:
– Green T-shirt with Field View logo
– Plain Black Shorts
– Green Hoody
– Plimsolls/Pumps
Outdoor PE:
– Green Jacket/Hoody
– Green T-shirt with Field View logo
– Black/Navy jogging bottoms
– Plain Black shorts (leggings may be worn underneath)
– Trainers
Body / earring piercings
The school does not allow any body or ear piercings, religious artefacts, watches as these may cause harm when young people undergo physical activity (During PE, extra-curricular clubs, competitions etc.) Removal of these objects will help to establish a safe working environment for children when undergoing any type of physical activity. Long hair should also be tied back for every lesson with accessories such as hair ties, scrunchies or clips.
PE is an important part of your child's education and pupils that are unable to remove jewellery will not be able to participate fully in PE due to the risk of injury to themselves and others. Please can you ensure that your child does not wear jewellery that they are unable to remove themselves, allowing them to participate fully in PE lessons, extra-curricular clubs, and competitions. For younger children, it may be necessary to remove their jewellery before school.
Want to know more
Find out about our trust